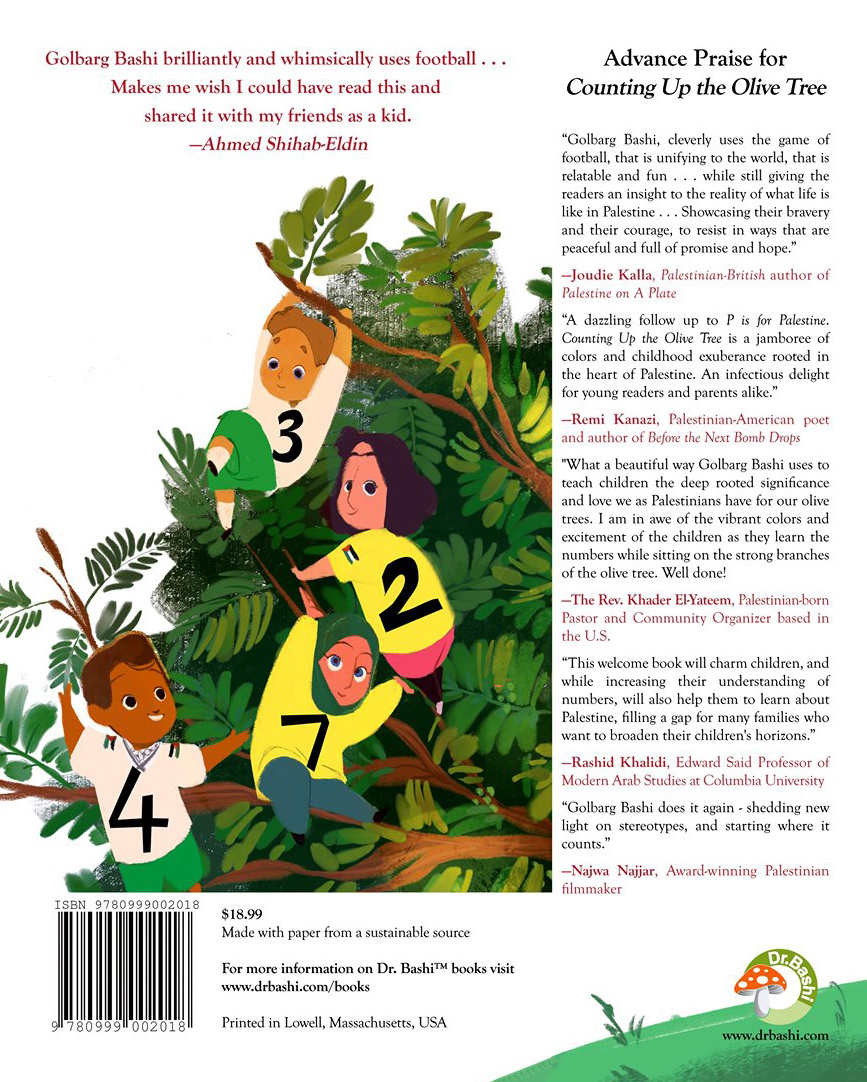 Counting Up The Olive Tree: A Palestine Number Book
After the extraordinary success of P is for Palestine: A Palestine Alphabet Book, Golbarg Bashi teamed up with the gifted artist Nabi H. Ali to publish the second book in the Dr. Bashi Diverse Books Series, namely 'Counting Up the Olive Tree: A Palestine Number Book' — a rhythmic, earth-friendly adventure where little Palestinian football (soccer) players, boys and girls, try to save an olive tree — helping young readers practice counting the numbers!
Description
Additional information
Reviews (0)
Description
A new fully illustrated counting book about Palestine from Dr. Golbarg Bashi, the author and publisher of the critically-acclaimed P is for Palestine: A Palestine Alphabet Book a bold diverse children's book successfully crowd-fundraised on Launchgood.com! Counting Up The Olive Tree: A Palestine Number Book is a social justice homage to Bill Martin Jr. and his Chicka Chicka Boom Boom, a legendary classic children's book we love.
Excerpts from the book:
"When the woeful woodcutter came to cut down the last olive tree
The kids cried,
'Please don't cut our precious tree in our land yet to be free!'
. . .
Player number 1 told player number 2,
get hold of number 3
who told 4,
'we must protect the last olive tree,
all of us and some more.'
. . .
Tlick – Tlock Tlick – Tlock
Will there be enough time?
. . .
Snoring cracking humming and roaring!
. . .
Wait! The woeful woodcutter is waking up,
no longer snoring!"
Reviews
"Uplifting storyline, cheerful illustrations, delightful, empowering, inspiring."
— Dr. Nada Elia
"Counting Up the Olive Tree is a jamboree of colors and childhood exhuberance rooted in the heart of Palestine. An infectious delight for young readers and parents alike."
–Remi Kanazi
"Golbarg Bashi cleverly uses the game of football, that is unifying to the world, that is relatable and fun … while still giving the readers an insight to the reality of what life is like in Palestine … showcasing their bravery and their courage, to resist in ways that are peaceful and full of promise and hope."
–Joudie Kalla
Paperback, fully illustrated.
Order your copy now to find out what happens next, as children practice counting the numbers, cultivating their math skills.
Palestine Online Store is the worldwide distributor of this book. Contact us for wholesale orders.
Additional information
| | |
| --- | --- |
| Weight | 2 kg |
| Dimensions | 12 × 24 × 35 cm |
You Might Also Like